Staff
Our pastor and his wife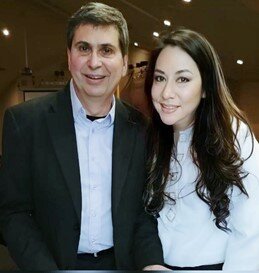 Brief Bio
Pastor Mark Wright is new to Santa Maria & Orcutt, but he and his wife, Ruth, have been in ministry for many years. Mark has pastored churches in Northern California and Iowa, and has served with K-LOVE and Air 1 Radio. Ruth has been a missionary in Nicaragua and Director of Campus Crusade's teaching centers throughout the country. They are very proud of their two grown children, Ben & Elena.
Mark & Ruth love seeing lives transformed, disciples made, and the church reach its full potential. Mark is trained in and experienced in church revitalization and transformation and is excited to see how God will bless and grow Heritage Church.
Pastor Mark holds a doctorate in systematic theology and has taught for seminaries and International Leadership Academy. He has been founding president of a free clinic, and leader in Cowboy Church and community revival services.
In their free time, Mark and Ruth enjoy hiking, exploring out of the way small towns, movies, cooking, and spending time with friends. Mark has also been to racing school and enjoys autocross.
A favorite Scripture passage of Mark's is Matthew 11:28-29: "Jesus said, 'Come to me, all of you who are weary and carry heavy burdens, and I will give you rest. Take my yoke upon you. Let me teach you, because I am humble and gentle at heart, and you will find rest for your souls."
Our Pastor Emeritus, Dave Brogren and his dear wife, Lynn